---
When a breach event occurs, time is of the essence.
With a good response plan in place and access to highly skilled third-party resources, a victimized organization can more efficiently and cost-effectively respond to and recover from a data breach.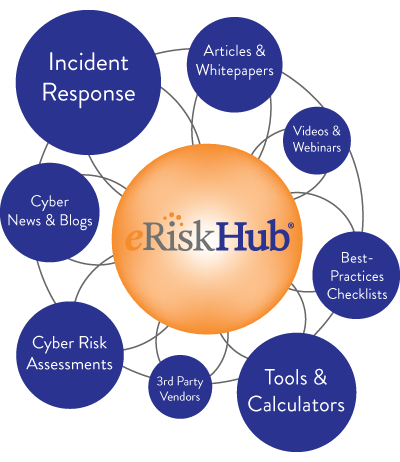 Let's face it. There's no such thing as perfect security. Whether by hacker, computer glitch or staff mistake . . . most companies will experience a data breach incident.
The question is, "Can you handle the incident calmly, quickly and effectively?" If you can't, your organization will likely lose customers and see shareholder value plummet. You might also be fined, or worse, targeted by a class-action lawsuit.
Knowing that a breach is almost inevitable—and the cost potentially devastating—what can you do to protect your organization?
Keep informed of evolving risks and changing regulations.
Get aggressive with your IT security & privacy defenses.
Be proactive in planning your response.
The eRiskHub® portal, powered by NetDiligence®, is your one-stop-shop for help in shoring up your cyber defenses and responding effectively to data breaches, network attacks and other cyber events.
Key Features of the eRiskHub®
Incident Roadmap – suggested steps to take following a network or data breach incident and free consultation with a Breach Coach®


News Center – articles on major breach events, security and privacy blogs, IT security updates, risk management events and helpful industry links


Learning Center – a library of best-practices articles, white papers and webinars from leading technical and legal practitioners


Risk Manager Tools – self-help for managing cyber risk, including a cyber-risk assessment survey, breach notification guides, what-if modeling tools to estimate the cost of a breach, and research tools to monitor the type, frequency and severity of incidents occurring in your business sector, click here to view a sample version of our most popular tool, the Data Breach Calculator


eRisk Resources – a directory to help you find qualified third-party resources with expertise in pre- and post-breach discipline